Best view in IE5. Pentium II. True color (24 bits). Resolution 640 x 480
Background Music "Brave Heart"

Soul of The Wolf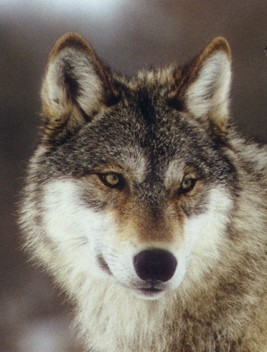 The Wolf....
A citizen of the Wild....
A spirit of Mother Nature....
A proud creature of the Great Creator....
A fascination for some....
An enigma for many.

If we but study about these noble animals, knowledge would replace fear and lies, and admiration would take the place of doubts. There are many lessons to be learned from the Wolf, especially those having to do with the natural order of Mother Earth.

A lone wolf is not a typical sight, as these magnificent creatures prefer the company of their own. They live with and are extremely loyal to their pack mates. These beautiful creatures have a strong sense of community, and respect the social order of their pack very highly. We would do well to look to the wolf for understanding, dispelling the many negative myths about wolves, and learning how to exist in harmony with all habitants of Earth.

The Native Indians learned much from the wolves. From their hunting skills to their loyalty, these lessons aided the Native Americans to survive on the land, and live in harmony with Mother Earth and each other. From these lessons many legends and stories were told about wolves. There are many books to find out about the habits and survival tactics of the Wolf.



Dawn H. Y. Lee
"Soul of The Wolf "
Copyright © 1999 DietHell's Cat International. All rights reserved.
e-mail : dietcat2@hotmail.com
Revised: August 13, 1999