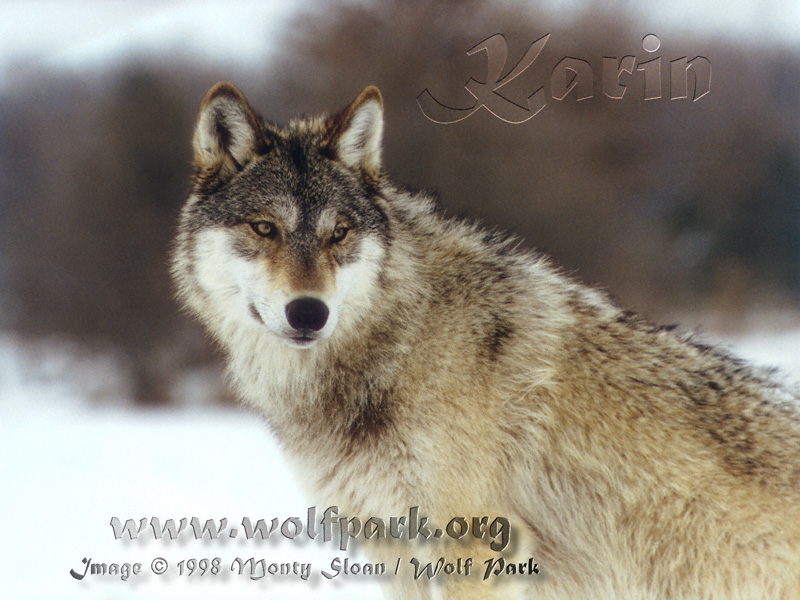 What Is A Wolf ?
A wolf is a large predator that depends for its survival on large prey, such as deer, elk, caribou, and in some parts of its range, moose and bison that tip the scales at more than a thousand pounds.
It has powerful jaws capable of exerting about 1,500 pounds per square inch, or about twice that of the domestic dog. It is accustomed to a feast and famine existence, often going many days without eating and then gorging as much as 20 pounds in a single sitting.
It's role in nature is to remove the sick and the weak, and in this way create a win-win relationship with its prey. The end result is a system which has succeeded for hundreds of thousands of years.
Length

Up to 1.8 meters (6 feet) including tail

Height

84 to 96.5 cm (33 to 38 inches) at the shoulder

Average weight

34 to 56kg (75 to 125 pounds)

M/F difference

Males can be up to 25% larger than females

Colour (color)

Many shades of gray. May also range from white to black with many combinations in between, including cream, tan, buff, sandy brown and reddish.

Size of Pack

Varies between less than seven to twenty (due partly to availability of prey)

Mating

When

Around January or February (depending on latitude)

Gestation

63 days

Litter Size

3 to 10 pups

Prey/Diet

Moose, deer, elk, caribou, bison, beaver, rabbits and mice.

Speed

Up to 35 miles an hour for short distances. 5 miles an hour indefinitely
Wolves have been long regarded by Native Americans as teachers or pathfinders. Wolves are fiercely loyal to their mates, and have a strong sense of family while maintaining individualism.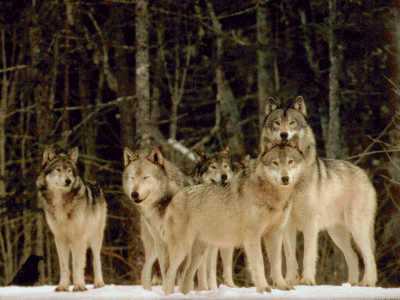 Wolves are probably the most misunderstood of the wild animals. Tales of cold bloodedness abound, in spite of the their friendly, social and intelligent traits. They are truly free spirits even though their packs are highly organized. They seem to go out of their way to avoid a fight. One is rarely necessary when a shift in posture, a growl, or a glance gets the point across quite readily.
Traditionally, someone with Wolf Medicine has a strong sense of self, and communicates well through subtle changes in voice inflection and body movements. They often find new solutions to problems while providing stability and support that one normally associates with a family structure.
---
Introduction
[ What is A Wolf ? ] [ Myth And Legend of The Wolf ] [ Physiology of The Wolf ] [ Communication And Behavior of The Wolf ]
[ Family and Social Structure of The Wolf ] [ Hunting And Selection of Prey ] [ The Wolf Today ]
Poems
[ The Lone She-Wolf ] [ Fight of The Midnight Wolf ] [ The Spirit of The Wolf ] [ The Spirituality of Silent Wolf ]
[ The Lady of The Wolves ] [ The Wolf ]
Miscellaneous
[ Did You Know ? ] [ The Language of Wolves ] [ Wolves - Worldwide ] [ Questions And Answers About Wolves ]
Guest Book
[ Special Dedication ] [ Sign My Guest Book / Feedback ] [ View My Guest Book ] [ e-mail Me ]
Copyright © 1999 DietHell's Cat International. All rights reserved.
e-mail : dietcat2@hotmail.com
Revised: August 13, 1999
Best view in IE5. Pentium II. True color (24 bits). Resolution 640 x 480